When it's cold out all I want to do is cook. It warms my kitchen and my stomach, and my freezer gets stocked up again. Some various recipes I've made over the past couple of weeks, most of them in one below freezing week:
Split Pea Soup – Could not find a ham bone at the grocery store but a friend had one in her freezer I could use. Next time, will check the butcher in town. I had to add twice as much liquid to cover the ham bone so I simmered it for a while longer to cook off the extra.
Slow Cooker Turkey Breast – Except I ended up doing it in the oven because the turkey breast wouldn't fit in my small crockpot. I also cooked it in some white wine and didn't have any onion soup mix so made up my own. Note to self: get a dutch oven.
Company Turkey Casserole – Had this at my grandparents' house the week before and it was why I cooked the turkey breast to begin with, to have leftovers for this recipe. I also did this in my oven.
Oven Roasted Brussels Sprouts – I never liked brussels sprouts before but these are so amazing.
Butternut Squash Soup – Always a hit when I serve it. I only use one package of cream cheese. I also take all the seeds to roast for a snack later.
Moroccan Spinach and Chickpeas – Saw this on a friend's blog and it looked delicious.
Warm Butternut Squash and Chickpea Salad – Had some squash leftover from soup making and had to try this after the reviews I saw. I was actually not a fan but I might try it again and tweak the dressing.
Yam Smoothie – I had a yam to use and it looked interesting.
Chicken Pot Pie – I made this before but not in a while. Yum.
Red Potato and Cheddar Soup – Found some red potatoes in my cabinet that needed to get used. I left out the ham. The soup was okay but I think I'll go back to my standard Herbed Potato Soup in future.
Buttermilk Pie – My brother requested a couple of these pies for his firehouse.
Butterscotch Pie – I did a graham cracker crust instead of pastry. I have to say, my meringue turned out amazing. I've only tried a meringue once before and it was a complete failure but I had some more tips this time and it was beautiful.
Veggie Quiche – Nothing is better than quiche for breakfast.
And of course, bread to go with all the soups.
Speaking of bread, here are some more that I've made from the book (although not all this week):
Philadelphia stromboli with sausage (using light whole wheat dough):

Pain d'Epi (made for Thanksgiving to break apart for rolls):

Naan (finally made this in my cast iron skillet):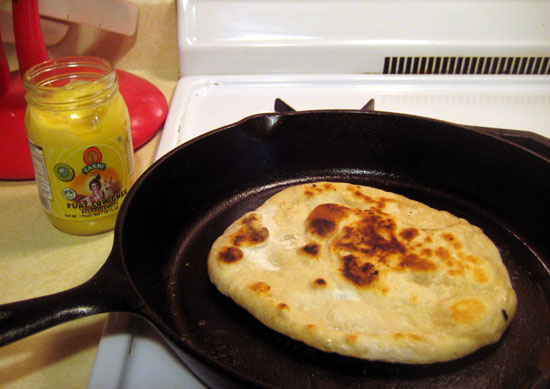 I also made the Oatmeal Pumpkin bread although I have no pictures. That was really, really good. I've made the master recipe a few more times as well since it's just so delicious and goes well with everything.
And speaking of cookbooks, another new favorite is Rustic Fruit Desserts: Crumbles, Buckles, Cobblers, Pandowdies, and More. This is right up my alley since I love old fashioned things and I love fruit desserts. It's organized by season, so you can go right to the season you're in and see recipes all made with fruits available at that time. So far I've only made the apple cranberry oat crumble (which I very appetizingly called the "crapple crumble" to the people I served it to), the gingered pear and raspberry pandowdy (a new favorite recipe and likely to be repeated soon since I have leftover candied ginger), the cranberry buckle with vanilla crumb and the apple cobbler with cheddar cheese biscuits. I will probably be doing a lot more of the apple recipes over the next week or so since I got a free bushel of apples from my farmers market.